Docushield: The Evolution Of Cloud Storage
Providing advanced secure document storage in the cloud
Providing security for user documents whilst gaining customer confidence and authentic decentralization with transparent community governance.
A Short History of the Cloud
Two generations back, in our grandparent's day, the method for storing and safeguarding documents entailed paper, file folders, locked cabinets, and secured rooms. Everything was in tangible form and the physical space required to maintain such storage was massive. Today we live in a world that our grandparents would only have considered possible in sci-fi fantasy novels. As we become increasingly dependent on technology to create, store, instruct, and save all the documents that are vital to personal life and business, we have a need for expanding services like storage on the cloud.
The concept of the cloud can be traced all the way back to the early 1960's in a subsidized venture with MIT. The PC of the time would today be seen as archaic, even monstrous. Yet it is from one of those PCs with reels of tape for memory that cloud computing was born.
In 1969 J. C. R. Licklider, called Lick, who was both a psychologist and a computer science researcher, launched an impossible dream—to have everyone across the globe interconnected by PCs. The dream, referred to as the Intergalactic Computer Network, would give everyone data access from anywhere on the planet. But it wasn't until the mid-1990s that AT&T launched the first all web-based storage service. For the next twenty years, the internet and cloud services have evolved into the daily applications that most people on the planet have come to rely on.
An Essential and Evolving Service In The Cloud
More and more of the important pieces in our lives and the documents essential for business are being transferred to digital format. The transformation of storage has freed up space on a massive scale. It has freed up time for users and service providers alike. With a few mouse clicks documents can be created, stored, retrieved, and shared like never before.
The way vital records and important documents are stored has been evolving in the past two decades. From physical documents stored in physical files to static electronic documents stored on local drives, to dynamic electronic documents stored on the cloud. Cloud storage is an efficient way for businesses and individuals to save data securely online and be able to access documents from anywhere anytime. Of course, security is always, as it always has been, a paramount concern.
In the past, important documents were locked in a file cabinet or safe. Today documents, vital records, personal information, and business records must be protected in a completely new way. The ease of access for the user presents an opportunity to thieves who want to take advantage of personal and corporate information. They use that info for their own personal, ill-gotten gain to sell to third parties, to transfer funds from bank accounts, and more.
That is why Docushield has gone to the lengths it has gone to develop a cloud storage service that is reliable, safe, and simple to use. Taking the impossible dream of Licklider's 1969 concept to a more fully realized twenty-first-century reality.
The Benefits Of Using A Cloud Vendor
Unless you are a tech wizard, the task of converting the storage of your vital documents may seem daunting, even overwhelming. However, the scalable benefits of making the effort should encourage you. With Docushield as your partner in the venture, the process is quite simple.
As Chelsea Farris writes in her article for Capacity, "The cloud vendor is liable for creating, overseeing, and keeping up with the pool of digital assets shared between numerous subscribers over a network. A public cloud configuration incorporates high flexibility and versatility for digitally-based organizations with little-to-no effort required on the backend." https://capacity.com/cloud-storage/history-of-cloud-storage
With cloud storage, your data is accessible anytime, anywhere. With that accessibility, sharing files and collaborating with others is elegantly easy as well. Because of our advanced encryption and three or four-layer protections, your data is safe. Your documents are available for you when you want them and you can rest easy knowing that they are virtually un-hackable.
The Rise Of The Decentralized Autonomous Organization (DAO)
The conception and rise of cryptocurrency, digital money, has given life to a new level of operations in the technology-based world of finance. This development has made it possible for users to complete transactions autonomously. Putting the individual squarely in the center and in control of their transactions, independent of banks, exchanges, and other financial institutions gives customers the authentic decentralized autonomy that people are demanding in their personal and business transactions. Decentralization with its growth beyond $100 billion, is a viable alternative to the traditional financial model.
This new financial model is based on three foundational software services.  Blockchain allows users to interact with each other directly and anonymously. Smart contract helps users conduct transactions automatically and securely. Cryptocurrency serves as a medium of exchange.
These foundational supports are exactly what make storage of private and sensitive data securely possible in the cloud. Based on blockchain technology with smart contract programming, all your documents can be safely stored and easily accessed. With full autonomy maintained by the user.
Our Vision and Purpose
Docushield is a decentralized platform that runs on the Kaden blockchain and is intended to be the chain of the future. We are committed to providing security for user documents whilst gaining customer confidence and authentic decentralization with transparent community governance.
Docushield is:
First to offer three to four layers of file encryption.
First to utilize PACT and the Kaden Blockchain
The only to offer all this in a decentralized platform
In simplest terms, Docushield is providing freedom and peace of mind. By taking those things that are essential to keep private and secure, and by using the most advanced forms of coding, encryption, smart contracts, and data scalability, we are providing a solution that is user-friendly. You don't have to be a tech wizard to have the access and security we are offering.
We aim to simplify file security and create a minimalist user interface that anyone can use without intimidation. You shouldn't have to be tech savvy or even have to know someone who is a tech genius to have the technology that serves you. We do what we do best so you can be free to do what you do best.
We Have A Plan
Docushield has a plan to provide the best service to our customers in a decentralized environment with the most advanced encryption for security. Our first priority is our mobile first browser. It will be supported on android, IOS, and web application. It will utilize dockerized mobile app and is hosted on FLUX, coded with Flutter.js and PACT smart contracts.
We provide full-proof document vaults for the important and irreplaceable. Powered by Kadena and its PACT programming language, FLUX which provides the infrastructure for the New Internet, IPFS, InterPlanetary File System, uses content-addressing to identify each file and connect all computing devices, and KURO which feature counterparty confidentiality. These structures support our vision to power and secure your life's important data and documents.
Services We Provide
Our service provides the freedom and peace of mind that ensures you can spend your time and energy on what really matters. Like everyday life. What's for dinner tonight. Where to go on your next vacation. The important stuff.
Safe document storage
Easy to use app
Impossible to hack
Cost effective
Documents are forever secure
Documents are forever accessible
For a service to honestly claim accessibility and security at the level that we have in our plan, the provider must have a service that works with any device that you use. Our services provide a suite of solutions that any user can access anywhere, anytime. You can:
Integrate – pull docs from Dropbox, Google Drive, DocuSign and more
No monthly fees – only pay for the services used
Forever access
Private email – without intrusion. Private mailbox solution is now in beta
Access with your android – compatible with all android smartphones via google play
Access with IOS – compatible with your iPhone from the App Store
Access on your desktop – access from all of your devices including your desktop
Aiming to build the most user friendly node program out there! A Sneak peek at the desktop suite & the node manager plugin.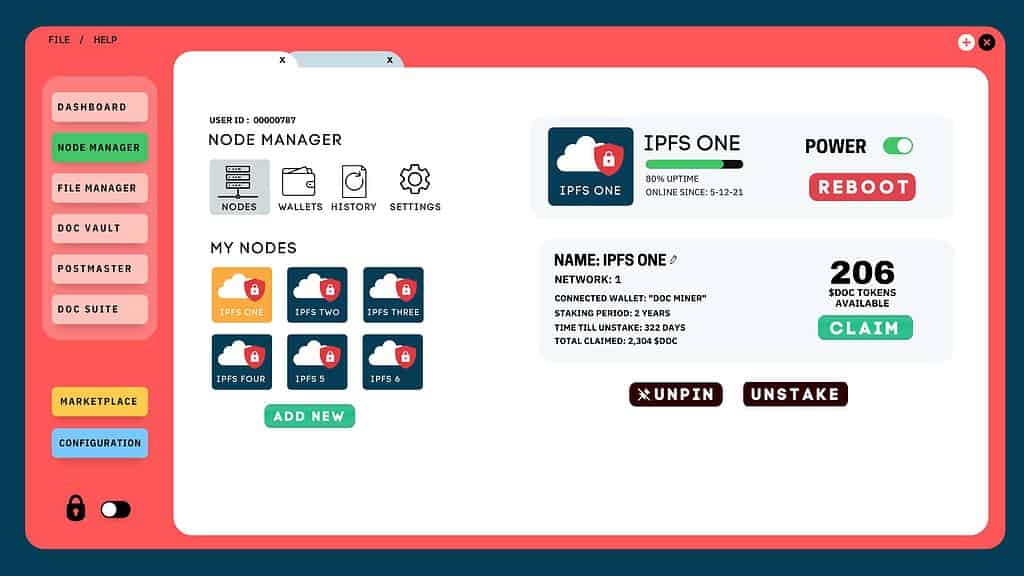 Unprecedented Security On the Cloud
It is the goal of the Docushield developers and providers to be a full-service document storage provider. Our plan to achieve this includes the launching of the Docushield app and private email inboxes already in beta. Our goal is to achieve mainstream onboarding and adoption by focusing on ease of use without the need for any prior knowledge of the blockchain world, security protocols or secret keys.
Security is assured with:
Military grade encryption by definition
TLS uses both asymmetric and symmetric encryption
Access control – a selective restriction of access to data consisting of two main components: authentication and authorization
IPFS Transport encryption while transferring data in network
Docushield uses the security of traditional, non-custodial crypto wallet. The new tech adds the option of typical user registration. Cap this process with common user registration and 2-factor authentication, and you have the beginnings of a powerfully safe security workflow. After you've uploaded your document, it goes through our military-grade encryption. Your files can only be accessed by you from your wallet in which you generated the document storage. Hackers cannot infiltrate!
Easy Process For All Levels of User Expertise
We make it extremely simple for you to store and access your documents. First, download the app (IOS/Android/Web). Then create a new account (wallet). Login using 2FA (two-factor authentication) or your private keys. Purchase a bundle of $DOC tokens (which is the currency that pays for transaction fees or credits for your purchase and use. It also secures your data).
Once you have your credits, your document will go through the additional three layers of encryption for added protection on its way to permanent storage on the blockchain. On your app, you can retrieve your documents whenever you need them. You are the only one who can view and manage your docs, not even we can see them. You design your file encryption preference with either three or four layers, depending on your settings.
And there you have it. Simple. Fast. Easy for all levels of experience.
Supporting An Authentically Decentralized Platform
Nestled in the security of our efficient and secure technology, we are gathering a community of people who will benefit from their own autonomous contributions. We are committed to honoring our customer's sovereignty with complete transparency. You, the customer, get to enjoy peace-of-mind security and we on our part are fully transparent.
Every quarter, members of the DAO will be shown the books and have the opportunity to review the financials and performance over the previous quarter. Members may propose new ideas or changes that they see fit to introduce. We believe that it is in this environment of transparency we will engender trust with our users and instill confidence in the services we provide.
Docushield is bound by smart contracts, keeping your data secure. It is our goal to provide excellent service that is inspired and run by the community of users. Governance is realized based on the needs and desires of the community and decisions are made by a voting process. It is an authentically self-governed organization with our users influencing and directing the progress of the organization.
Three Types of Accounts
Anonymous—the user can create anonymous accounts only recoverable with private keys.
Registered—the user provides account details like email, phone, and 2FA set up. Private kekys will be generated and provided.
Enterprise—available in v2.
About Our Team
Our company, based in Orange County, CA, is comprised of entrepreneurs, web developers and blockchain maximalists. Each one with their unique experience brings strength to our vision and support to our community.
Adrian Marquez, Founder and Solutions Architect, Docushield
Michael Chavez, Community Manager
Paul Jules Mancion, Marketing and Community Organizer
Kaleena Leuta, Administrative Coordinator
Abdur Hehman, Fullstack Developer
As a cooperative community and with a commitment to transparency, we invite you to join us in our endeavor. Create a fully autonomous environment of security and ease with our team of experts, supported by our company vision. Feel free to message us on our website or visit this link: https://docushield.app.runonflux.io/
Official Docushield Links, These are the verified links for Docushield.
Website
docushield.app
Twitter
twitter.com/docushield
Telegram
t.me/docushield
Medium
medium.com/@docushield
Whitepaper
whitepaper-v1.pdf