When deciding on a software platform for business, there are two that come out on top: Microsoft Office 365 and Google's G Suite. Each of these platforms improves overall efficiency, integrates business data, and provides access to a host of customizable features.
While each of these platforms shares similarities, some key differences ultimately determine which is the better of the two. Each software is built differently and is geared to flourish in specific business environments. So, if you're wondering which is the best for your unique business atmosphere, you'll enjoy reading through the guide we've prepared below. With a thorough breakdown, you'll be better equipped to make the ideal decision for your company.
An Overall Look
Both Microsoft Office 365 and Google's G Suite come from particular backgrounds. Microsoft comes from a long line of products and has a strong reputation and history. These products have been integrated into computers for years, and users tend to find Microsoft products synonymous with PCs.
Google's platform is a bit different. Although Google is widely recognized as a search engine, the products offered, like Gmail and Google docs, are less of a household name. However, Google, like Microsoft, has kept a steady record of growth, offering a multitude of apps that include Google Sheets and Google for Work. It is this ultimate bundle of products that have been labelled G Suite.
Before taking a deep dive into the specifics of each platform, below is a quick overview:
Microsoft Office 365
They are designed for power. Available both in web versions and desktop versions (however, it's important to note that the desktop version offers limitless features). Can be accessed on different platforms, including Mac OS, Windows, and mobile programs.
Google's G Suite
They are designed for collaborative business environments. Only available via the web. When file syncing is activated, offline use on a Google Chrome browser is available; however, there are no desktop versions for any of the G Suite apps included in G Suite.
Can be accessed on different platforms, including Mac OS, Windows, Android, and iOS.
It's important to understand that web versus server accessibility has some pros and cons.
The web-based applications have a primary focus, and that's speed. They're easily accessible, requiring only a web browser and internet connection, and offer the stability that syncs across an array of devices. However, while these are attractive features, it's ultimately desktop versions, like Microsoft Office 365, that offer users a more luxurious experience. These downloadable programs provide more power and more thorough use of all available features. Three Vital Business Necessities: Documents, Spreadsheets, and Digital Presentations.
Here we offer a more detailed breakdown of each option.
First, you must understand how each of these platforms makes it easy for you to create your documents, spreadsheets, and presentations and how each enables you to share them with your co-workers, clients, and colleagues. G Suite has developed several apps that closely resemble the programs available through Microsoft. Below we address how G Suite compares to the long-standing features of Microsoft products.
Google Docs versus Word Documents
Google Docs offers a clean, straightforward design that keeps collaboration at the forefront of its layout. Though it contains similar features to Microsoft Word, you may find the interface is not quite as easy to navigate.
Also, since Google Docs does not have a desktop version, you run the risk of losing data integrity when transitioning between on-server programs and web-based applications.
Microsoft Word offers a more robust interface with a host of familiar features that are designed for ultimate power. Due to the longevity of the product, fixes have been ironed out and features have been optimized.
Although G Suite is geared toward collaboration, Microsoft Word has also integrated features for accessibility and collaboration. Since Microsoft Word is offered in a desktop version, it incorporates additional security to protect your business data.
Google Sheets versus Excel Spreadsheets
Google Sheets offers a simplified, web-based spreadsheet interface. It's fantastic for simple tasks, like keeping track of business contacts or completing some basic math computations. For collaboration, the app is equipped with a small chat box that can be used to discuss changes and updates in real-time with your business partners. However, if you're looking for more complex functions, like pivot tables and investigative data, you'll find that Google Sheets isn't quite up to the task.
Excel Spreadsheets is a more thorough program when it comes to tackling intelligent and dynamic spreadsheets for your business. Excel is equipped with scripting features and overall advanced formatting that serve your business better. When you're working with complex data that requires a complete set of features, the decision between Google's G Suite and Microsoft Office 365 is a no-brainer.
Google Slides versus PowerPoint
Google Slides has a very similar interface to PowerPoint; however, like Google Sheets, the vast array of features and templates does not match up to Microsoft. It is a user-friendly app that offers a host of features for simple presentations. However, creative freedom is a bit limited with Google Slides because of its restricted set of features. Google Slides does offer a YouTube integration for the use of embedded videos, but a network connection is required for this web-based application to be fully functional.
PowerPoint is the well-known presentation software used by professionals in a variety of industries. This program offers a long list of style features and formatting options that give you as much creative freedom as you can take. Also, PowerPoint is equipped with the ability to integrate with several other media platforms, including YouTube, Twitter, and even Facebook. Unlike Google Slides, a network connection is not required once a video has been embedded into your presentation, letting you save and present your ideas while offline.
Google's Gmail versus Microsoft's Outlook: Which is Better for Your Business?
Is it possible for Gmail to be just as user-friendly and thorough as Microsoft Outlook? What you require when using email software will determine which is the best option for you. Each email software has a set of pros and cons for you to consider and truly, they do share many similarities. However, there are some important differences that will ultimately affect your final decision. Below, we review some of those key differences and we also list the similarities between the two products.
Similarities between Google's Gmail and Microsoft Outlook:
Customisable; allowing for deployment of email addresses with your company's name
Funcnctionality that includes two-step authentication for security and privacy
 Strong spam filtering.
Malware detection with advanced features, including link scanning in real time and notifications of any potentially harmful content
Color, font, and format themes are customizable to suit individual user preferences.
Capable of incorporating legal holds on inboxes to prevent security breaches from employees with ill intent.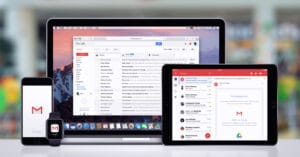 Gmail
Gmail is accessible via online use, supported by third-party software. Besides, Gmail can be used via desktop versions of Microsoft Outlook and other native software offering offline accessibility.
Users can access their emails offline using web browsers, Chrome and Safari, but set up is required via a Gmail extension for this function to be activated. Access to data is restricted to only a month's worth of data when using this offline accessibility feature.
Gmail has built-in email sorting categories, offering organization right off the bat. Priority levels are assigned for each email, ensuring filtering under these standard categories. While you can remove categories and add tags to make filtering easier, these standard filtering options are not customizable.
Gmail also has a limitation when it comes to setting up email rules for optimal routing of important data. In addition, users are not able to customize the overall appearance of the panes for a cleaner and more organized feel, but they can alter the color themes to suit personal preferences.
Microsoft Outlook
Outlook is equipped with full web integration and has a desktop version included with Microsoft Office 365. With this accessibility, you can use email whether you are online or offline. So long as data is saved locally, you have access to all emails without limitations.
Outlook also has a well-developed folder organization system that is highly intuitive. This system offers calculated routing options for important data and allows full customization to support your unique preferences. In addition, the pane view can be optimized to reduce visual strain while working long hours.
Outlook is a personal information manager web app from Microsoft consisting of webmail, calendaring, contacts, and tasks services
User-experience customization tools are included with Outlook, allowing you to set up specific rules for incoming emails, ensuring productivity and efficiency.
Outlook is also equipped with two-step verification, better securing your business data when working online.
Outlook includes email and calendar integration to keep your schedule well-documented and even offers the ability to cross-integrate calendars with co-workers and business partners. Outlook's calendar offers more features, including options for resource management. Remote meeting integration options are available and are compatible with a whole set of tools that include Skype for Business and Go-To Meetings, among others.
Features for Collaboration and Effective Communication: How Each Platform Facilitates Connection
Email is certainly a vital aspect of business communication; however, professionals require different, dynamic methods for instant communication with clients and colleagues throughout the world. Below, we break down the tools offered by G Suite and those offered by Microsoft Office 365.
G Suite – Google Hangouts
Limits user base to a maximum of 25 participants. This platform is not ideal for large business gatherings, as seen when hosting an open webinar.
Google Hangouts offers the capability to sync Hangouts conversations on a variety of different devices.
Hangouts are built-in as a part of G Suite's applications. Despite this, the platform essentially stands alone, lacking the integration features available with Microsoft Office 365.
Google Hangouts web page. Google Hangouts is a communication platform developed by Google which includes instant messaging, video chat, SMS and VOIP features
Microsoft Office 365 – Teams
Larger user base available, capping out at 49 participants. Clean user interface with easy navigation that is capable of replacing enterprise-class phone systems. If you're looking for enterprise phone system support, this is a viable option with Microsoft Office365. Integration features are fully functional, including meeting scheduling and file sharing directly from the platform. Users can customize the communication tool to create seamless, optimized connection with co-workers and clients.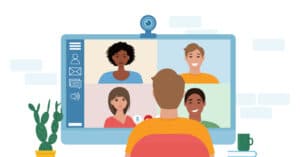 Microsoft Teams is your hub for teamwork, which brings together everything a team needs: chat and threaded conversations, meetings & video conferencing
How Microsoft Office 365's SharePoint and G Suite's Sites Compare
G Suite Sites
Clean and simple interface that allows for speedy deployment. Limited features when compared to SharePoint but offers a more user-friendly experience.
Similar in functionality to Wikipedia, linking referenced pages within Google Sites. HTML alteration is unavailable, which limits user customization. This results in the inability to brand with company information and defaults to Google's branding.
Search features are limited, as data can only be accessed if it is already on the Site. For instance, if you are looking to reference a document that is not already linked to a Site, you will not have visibility unless it is first linked.
Office 365 SharePoint
Includes metadata tagging, which allows linking within SharePoint and file linking throughout enterprise servers.
Significant capacity for collaboration with features that require checking in and checking out to prevent simultaneous file updating and conflicted document copies.
Clear records management features and version histories that provide you with transparency across different documents.
Open access to documents stored within the enterprise server. For instance, if you upload a word document into the Office 365 Cloud, you will quickly and easily be able to access it via SharePoint as well. This built-in streamlining supports efficiency, providing users with whatever data they need – whenever they need it.
SharePoint is a web-based collaborative platform that integrates with Microsoft Office. Launched in 2001, SharePoint is primarily sold as a
document management and storage
system, but the product is highly configurable and usage varies substantially among organizations
Business intelligence supported throughout, including automated workflow processes for increased productivity.
Additional Features: Notes and Software-Specific Extras
Above, we compared the most widely used programs, including email, documents, spreadsheets, and content management.
Both G Suite and Microsoft Office 365 have additional features that are unique to each platform. To start, we'll list the different note-taking capacities of each platform and finally, we'll address some of the extra features unique to Microsoft Office 365.
Note-Taking
G Suite – Keep:
Allows for quick, standalone notes when documenting simple data. Very similar to Post-It notes, except digital. Can be shared among your workforce and promotes collaborative editing
Office 365 – OneNote:
Well-rounded, offering indexed notes as well as notebooks. Similar to a paper filing system, wherein you can gather notes from different users and index/share/organize as you please.
Equipped with the ability to integrate your calendar so users can sync notes based on relevance to specific meetings.
Microsoft Office 365's Unique Features
Bookings can be described as a digital scheduling assistant. This application not only tracks your meetings, it is also equipped with the ability to integrate externally. This means you can link to different websites and permit clients to schedule appointments and meetings with you easily, on the web.
Delve
Delve is another tracking feature that carefully monitors your personal trends to highlight the topics that interest you most. Files recently edited are placed on top for your convenience and your emails are optimized based on your preferences. This app is highly intuitive, giving you a quick glimpse into what matters most – keeping you focused and working efficiently.
Flow
Flow helps you organize your workflow within Microsoft Office 365. This app creates smart flow charts that can be unified across all of your Office 365 applications.
It's All About Value: Which Software Offers the Most?
You have a solid idea of the features offered by G Suite and Microsoft Office 365. However, you need to understand the pricing and value of each platform. Your business investments require careful decision-making, and below we provide additional information to help you decide which platform best suits your needs.
G Suite Business
Priced at $10/month USD per user
 Online only product with no desktop version.
Unlimited cloud storage, including email as offered through Gmail.
If your business has less than five users, however, your storage is limited to 1TB.
User base is unlimited.
Web and phone support are available 24/7.
Microsoft 365 Business Standard
Priced at $12.50/month USD per user
Available online via web apps and available as a desktop version
Unlimited cloud storage.
Email storage includes 50GB.
User base is unlimited.
Web and phone support are available 24/7.
Which Platform is Best? Microsoft Office 365 Takes the Cake.
The breakdown above provides you with a look into the different programs and features available through each platform. Yet, you may still be wondering which option offers the most value for your unique business. While you may be leaning toward the simplicity of G Suite, we cannot overlook the long-standing success and overflowing features and value provided by Office 365.
G Suite has a great design that closely emulates the design of Office 365, but it is clear that Office 365 is better equipped to handle business needs for companies that require a more robust software. Microsoft's reputation precedes its products, and if you're looking to invest in a software that allows for your continued expansion, our top recommendation is Office 365. Bottom line, Office 365's intuitive, intelligent, highly customizable features win over G Suite's simplified applications. The choice is yours!